TROPHON®2 AUTOMATED HIGH LEVEL DISINFECTION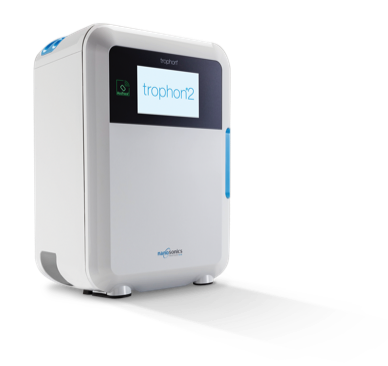 Every day, approximately 80,000 patients are protected from the risk of cross contamination because the ultrasound probe has been high-level disinfected with trophon.
DEMONSTRATED COMPATIBILITY

Over 1,000 probes from all major and many specialty probe manufacturers have been approved as compatible with trophon.

MASTERFUL MICROBIAL DEFENSE

trophon is the only automated HLD technology for transvaginal, transrectal and surface probes to meet mandatory microbial efficacy test requirements for both CE mark and FDA registration. In addition to mandatory testing, trophon is demonstrated to eliminate an extended range of clinically relevant pathogens including multi-drug resistant bacteria, blood borne viruses and sexually transmitted pathogens.

STREAMLINED WORKFLOW

trophon2 is a fully enclosed, automated HLD system that saves you time with a simple, fast and integrated workflow solution. trophon2 makes point of care reprocessing possible, offering a solution that has been designed specifically for patient examination rooms. Simple to operate and requiring minimal training, your staff can confidently deliver consistent HLD of your ultrasound probes. With new and improved features allow you to configure trophon2 to streamline your clinical workflow.

DEMONSTRATED COMPLIANCE
AcuTrace® RFID technology simplifies the creation of accurate digital records across the reprocessing workflow to support audit readiness. With trophon2 and AcuTrace, users capture the full reprocessing workflow electronically, removing the need for manual record keeping, reducing time and errors.

TOTAL REPROCESSING SOLUTION

The trophon portfolio offers a complete reprocessing solution with a number of consumable and accessory product solutions to allow users to prepare, disinfect, track and trace, and store ultrasound probes.
RKS Medical Technologies is a proud Canadian Authorized Reseller of trophon2.